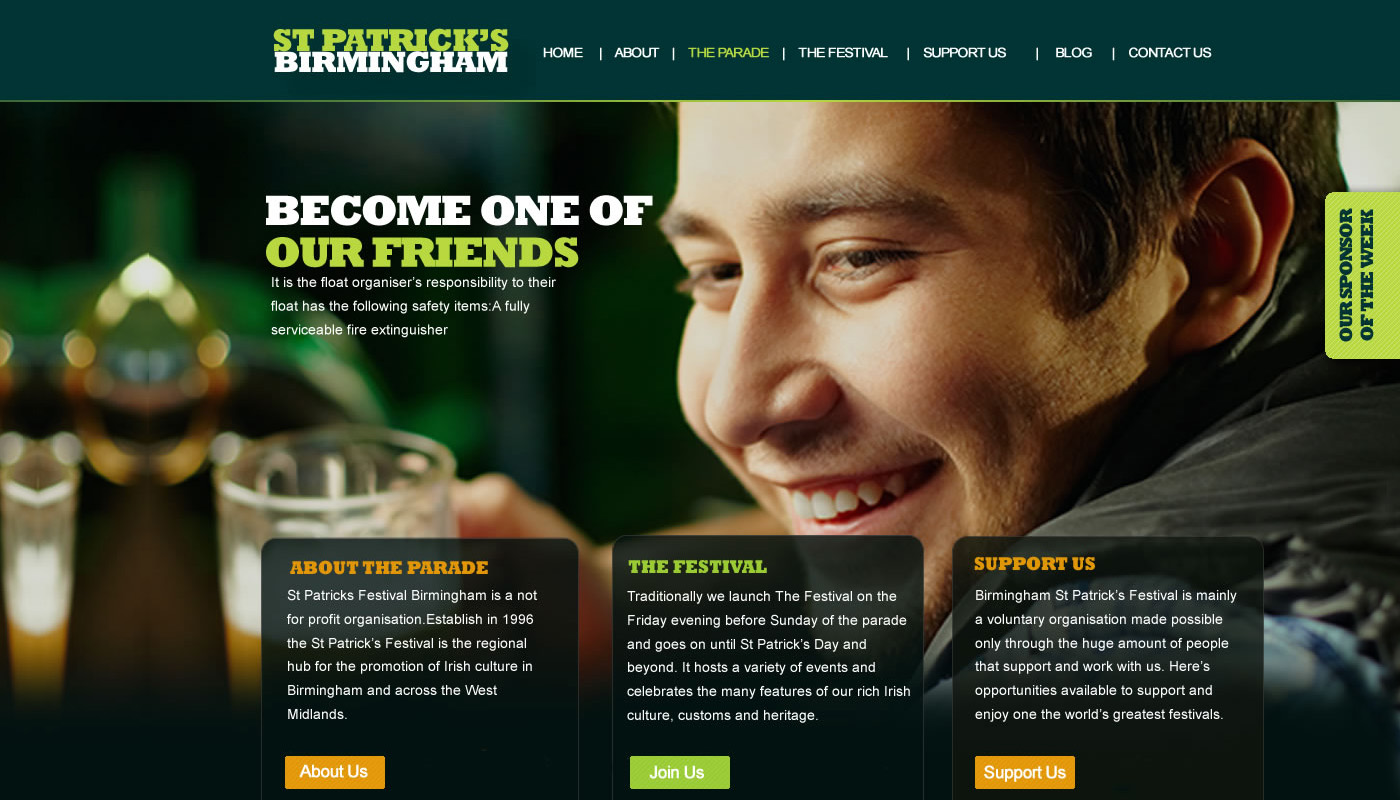 Things have moved on somewhat from Shamrocks, Snakes and Saints on the 17th March and nowhere is this more evident than the St. Patricks Festival Birmingham, held annually in Digbeth.
Digbeth for generations has had a long standing connection with the Irish community and was the perfect location to hold the first parade in 1996.  It has been such a spectacular success that the St. Patricks Festival Birmingham is now the third largest St. Patricks day event on the global calendar after New York and Dublin.
St. Patricks Festival Birmingham is a not for profit organisation that promotes and helps to organise the parade and surrounding events that covers Birmingham and the West Midlands. They wanted a website that engaged the public as a whole and endorsed their vision of the St. Patricks Festival Birmingham experience and its impact not just on the Irish community but also something  that epitomised the increasing contribution from local business, charities, media partners and in particular the multi cultural mix that the event has inspired.
The Razor Smile team was empowered with delivering this vision at the same time as creating a user friendly and accessible site that needed key elements to make it a workable project with a positive outcome.
Anne Tighe joint co-ordinator of St. Patricks Festival Birmingham was delighted with the outcome: "We wanted a web design company that bought into our vision of the event. We knew that this would be slightly off mainstream and a difficult task to undertake.  We required a blog, ecommerce facilities, advertising for official sponsors and a quarterly photography competition. It was also important that we ranked well on Google; we need as much exposure as possible.  I must admit my eyebrows were raised when the Razor Smile team said that they could achieve all this within our required timeframe of two weeks! The end product is there for all to see, we wanted a quality projection of the event and the work that Razor Smile completed has surpassed our expectation at a very competitive rate."
Razor Smile is proud of the St. Patricks Festival Birmingham website. We realised that this was a labour of love for the organisers and we needed to work in tandem with them in key areas whilst giving the website an identity that embraces the event and engages people in an informative way.
View the St. Patricks Birmingham Website
Charity & Not For Profit Organisation Website Design Birmingham
If your organisation or company is looking for a web design company that has creativity and quality at the heart of its ethos then get in touch today.